BLOG
Windows 11 – what's new in Microsoft's upcoming operating system?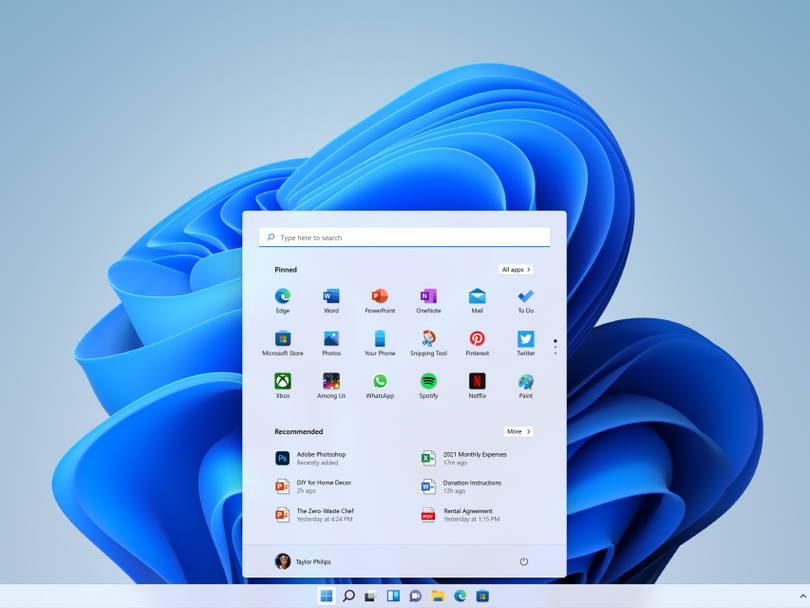 The June 2021 announcement of Windows 11 was quite a surprise to most since back in 2015, when Windows 10 was launched, it was branded as the "last version of Windows." Arriving late 2021 (though the exact date is unknown) Microsoft Chief Product Officer, Panos Panay, describes the new operating system as "the Windows that brings you closer to what you love."
I thought that was a bit cheesy, so here's what you'll be getting from Windows 11 in simple terms.
Features
The first thing you'll notice after logging in is the user interface (UI) is quite different. The visual tweaks include redesigned icons, a new system font, and a new Quick Settings pane for swiftly accessing common settings such as Wi-Fi, screen brightness, and speaker volume. The most evident change to the UI is the redesign of the Start menu. Moving from the left-hand side, where the menu was positioned since Windows' debut, the Start menu is now central and features a search bar followed by two sections – one for program icons and the other for recent documents and shortcuts – although there is an option to move it back to its original place.
The new Snap layout feature gives you the flexibility to easily fit multiple windows on one screen in various positions, maximising your ability to multitask whatever device you're working on.
With a big surge in instant messaging and video conferencing over the past two years, Microsoft is integrating Teams chat directory into the Windows 11 taskbar. Panay states this will allow users to "instantly connect through text, chat, voice or video with all of your personal contacts, anywhere, no matter the platform or device they're on, across Windows, Android or iOS. If the person you're connecting to on the other end hasn't downloaded the Teams app, you can still connect with them via two-way SMS."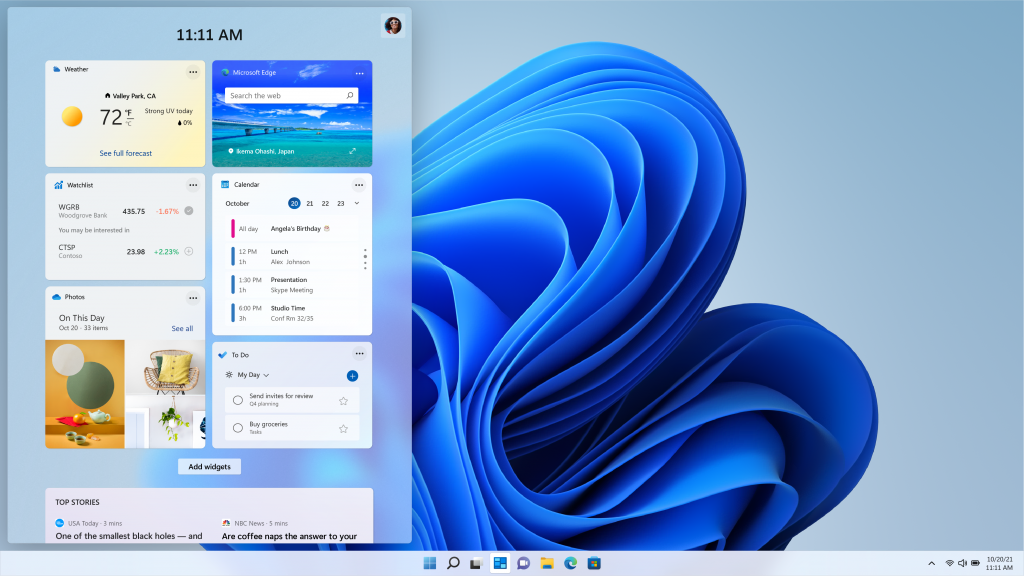 A new widgets pane can be opened from the taskbar. It utilises live tiles which are no longer in the start menu and gives you a customisable overview of your day from daily news to the weather.
Microsoft is trying to encourage users to make use of the redesigned MS Store which will "soon be welcoming leading first and third-party apps like Microsoft Teams, Visual Studio, Disney+, Adobe Creative Cloud, Zoom and Canva". What's more, Microsoft's development of the Windows Subsystem for Android (WSA) will allow users to install and run Android applications within Windows 11. These applications will be found in the Microsoft Store and downloaded through the Amazon Appstore, although not all Android applications will be available.
Other changes include:
Cortana will no longer appear in the first boot experience or taskbar
Inter Explorer is disabled
Tablet Mode is removed although "new functionality and capability is included for keyboard attach and detach postures"
Taskbar can only be aligned to the bottom of the screen
The following apps, while available from the Microsoft Store, will not be included on clean installs of Windows 11 by default: 3D Viewer, OneNote for Windows 10, Paint 3D, Skype
Price and System Requirements
The pricing for retail editions of Windows 11 has not been announced (although it is likely to be the same as Windows 10), while an upgrade from Windows 10 to 11 will be free of charge.
The system requirements are as follows:
Processor – 1GHz or faster with 2 or more cores on a compatible 64-bit processor or System on a Chip (SoC)
RAM – Minimum 4GB
Storage – Minimum 64 GB
System firmware – UEFI, Secure Boot capable
Trusted Platform Module – version 2.0
Graphics card – Compatible with DirectX 12 or later with WDDM 2.0 driver
Display – High definition (720p) display that is greater than 9" diagonally, 8 bits per colour channel
You can learn more about Windows 11 system requirements here and can use the PC Health Check app to see if you're device meets them.
If you are considering an upgrade to Windows 11, have any questions, or would like to know more about desktop support solutions from 10-100, give us a call today on 01908 087 000 or email sales@10-100.com!