MICROSOFT 365 BUSINESS VOICE
What is Microsoft 365 Business Voice?
Microsoft 365 Business Voice is a cloud-based phone system designed for any business that already runs Office (Microsoft) 365.
It integrates into Microsoft Teams, providing an all-in-one communication solution that brings the ability to make and receive calls to PSTN landlines and mobiles worldwide, alongside the usual Teams functionality of meetings, messaging and Team collaboration.
​
It works wherever you do, on computers (Windows and Mac), Smart Phones, and on a dedicated range of desk phones, with support for some legacy SIP desk phones coming soon.
SYSTEM BENEFITS
The Benefits of Using Microsoft 365 Business Voice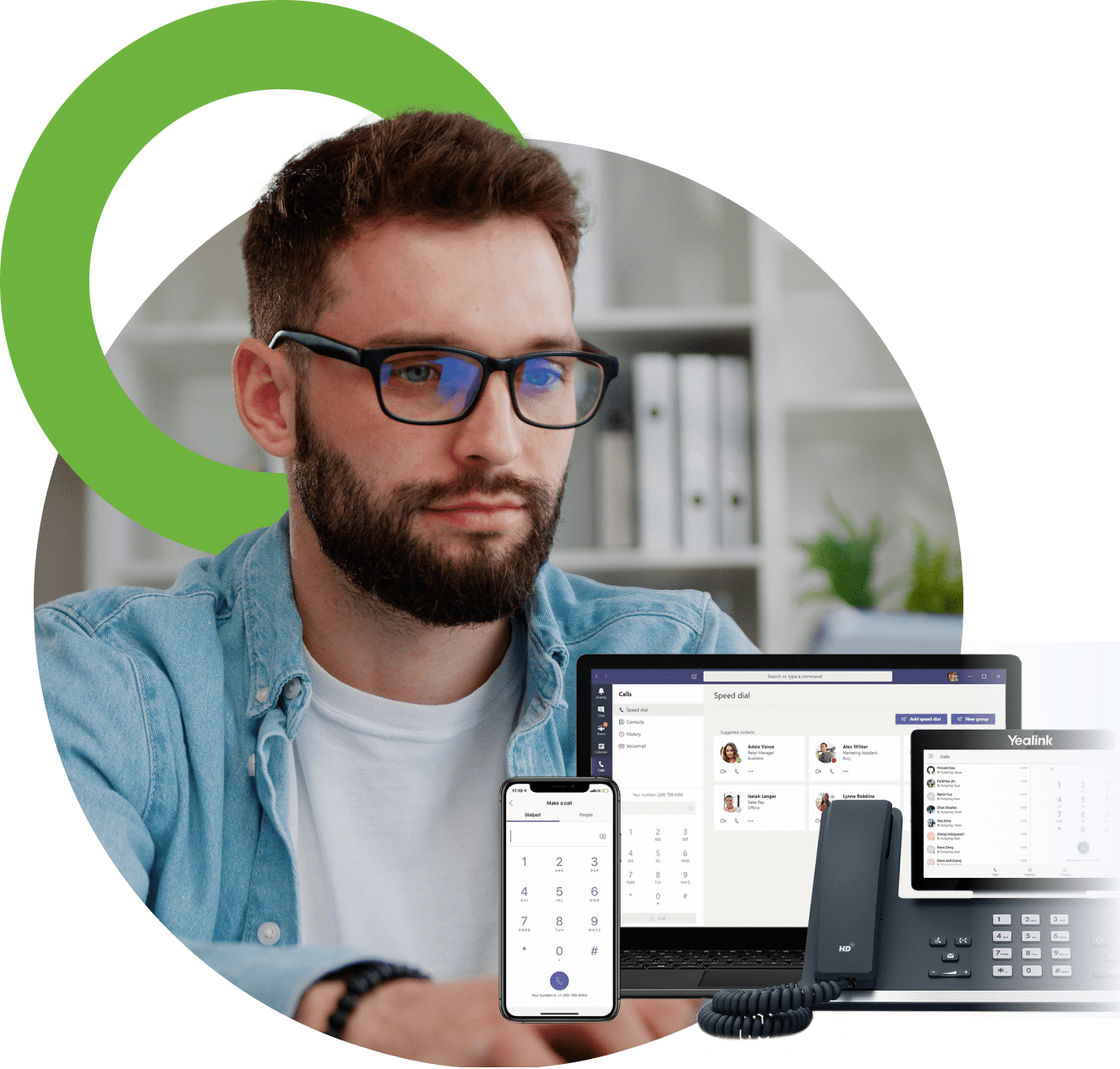 Microsoft 365 Business Voice has been built to scale along with your business and brings with it Enterprise grade phone system features such as:
Auto Attendants, Voice Menus and Call groups so calls can be answered and routed to any user or group of users.
User and Service Number Voicemail.
The ability to assign Geographic or Non-Geographic phone numbers to both your users or service numbers, or port your existing numbers in to the system
Easy to use call merge and conferencing facilities.
Comprehensive and competitive calling plans, meaning that your monthly expenditure should be predictable.
A dedicated range of Teams Desk Phones available from industry leaders such as Poly, AudioCodecs and Yealink. Compatibility with a range of legacy SIP phones is also coming soon.
Stay connected with a single phone number on any device, whether that be mobile, computer or desk phone and Apple CarPlay support is coming soon as well!
Deployment also couldn't be easier. Microsoft Business Voice leverages the same contracts and licensing sources as your current Microsoft 365 licences and because it utilises the standard MS Teams clients, there is no additional software to install on devices, meaning a zero touch deployment of phone system functionality to the end user.
ADD-ON LICENSE
How Much Does it Cost and What is Included?
Microsoft Business Voice is an add-on licence to your existing Microsoft 365 licences.
It includes licences for the Microsoft Phone System itself, audio conferencing functionality allowing users to add a 'dial-in' number when they create MS Teams meetings and also a calling plan which gives each user 1200 minutes per month to UK Landline and Mobile numbers.
Like the rest of Microsoft 365, pricing is on a 'per user' basis with Service numbers (typically your main or department numbers answered by multiple users) free of charge.
​
There are no long multi year contracts and commitment is inline with your existing Office 365 licencing commitment.
Why Partner with 10-100?
10-100 are specialists in supporting the Office 365 ecosystem and can leverage their considerable MS Teams and Business Voice experience in the design, implementation or migration, and onward support of your MS Business Voice Phone System.
​
Based in Milton Keynes, our knowledgeable, friendly and talented help desk facility will go beyond your expectations, providing you with the level of service and support your business deserves.
To discuss the benefits that Microsoft Teams Business voice can bring to your Business, please contact us.